Southwest Leadership Academy Charter School (SLACS) will develop leaders by empowering students to change the factors that define their reality. Students will develop the leadership skills necessary to drive complete community rejuvenation in Southwest Philadelphia. In developing these skills, students will cultivate an array of leadership components that they can apply to community change on a global scale.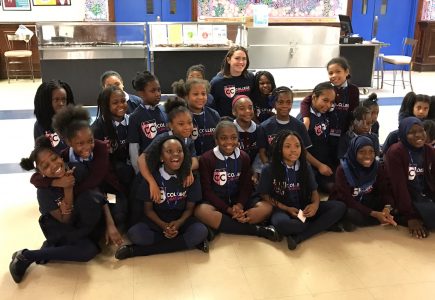 The mission of SLA is to foster the next generation of community leaders by:
rigorous, research based academic instruction

a unique Leadership Curriculum

a single gender education model

highly qualified teachers
DONATE HERE
Southwest Leadership Academy seeks to give students the ability to change their environment through the use of a single gender, leadership embedded educational model. Founded in Southwest Philadelphia, a fundamental vision for the initial school was serving that specific community. Through the rigorous educational environment, the school ultimately seeks to invigorate the community with the core values of integrity, scholarship, courage, concern and leadership. Academically, SLA has consistently met the standards provided by the state, and in certain years exceeded the expectation. This happens through four core elements:
Leadership Curriculum
Southwest Leadership Academy seeks to embed a core of leadership within the student body through the use of consistent and repeated exposure the core competencies of pride, self-awareness, self-control, responsibility, civic engagement, abundant thinking, and respect. This occurs through formal coursework through programs such as NFTE, counseling and conferencing that focuses on positive engagement, and discipline that incorporates principles of restorative practice.
Highly-qualified teachers
Southwest Leadership Academy Charter School has a process to screen for the mission match and teaching quality of staff through the hiring process of all staff. Once a teacher is part of the staff, professional development occurs through the coaching of 3 certified principals as well as on-site and off-site professional development opportunities.
Single Gender Learning
Another key aspect of the Southwest Leadership Academy Charter School's academic program is the single-gender program. Students learn in gender separated classrooms that seek to enhance the learning process through the use of brain based developmental differences. Educators are trained through the teachings of the Gurian Institute, an organization that specializes in single-gender learning strategies.
Rigorous Curriculum
The curriculum implemented by the Southwest Leadership Academy Charter School, has been vetted, horizontally and vertically aligned, and sequenced to provide students with access to the state standards and curriculum necessary to be successful moving forward.
Why Sla Exists
Southwest Philadelphia has suffered a long history of violence, poverty, and difficult social issues. The outlook for education has been just as bleak. The following outlines the educational outcomes for High School freshman in the year 2000 in Philadelphia High Schools.
The Success Plan
Unique Single-Gendered Classroom Model
A cornerstone of a Southwest Leadership Academy Charter School education is the unique model of teaching scholars in gender- specific classrooms. Supported by research from the world- renowned Gurian Institute, the single-gender model began at SLA because of the social differences between the sexes. This model has evolved into a core component of professional development based on a wealth of brain-based research. Throughout their time at SLA, scholars are educated under one roof but in single- gender classrooms, with facilitators trained to teach in ways that appeal to the nuances of each gender. The single-gender model also enables scholars to disengage from traditional societal pressures and focus on academic and leadership development.
Leadership Curriculum
Students at SLA dress like scholars, walk like scholars and know they are in school to learn, achieve, and become community leaders. Expectations are high, and students are challenged academically and empowered to become more productive at school, at home, and in their neighborhood. The Leadership Curriculum, embraced by all SLA staff members and instilled in each scholar, focuses on the following competencies: